We've compiled top highlights from recent research, policy, and practice resources across the world for our latest IACFP International News summary. Our topics for March and April, 2023 include IACFP updates; member access to SAGE Journals; recent research, policy, and practice; and upcoming conferences.
IACFP Student Research Award Applications Now Available

IACFP Student Members are eligible to apply for the IACFP Student Research Award. The IACFP Board has approved up to two $2500 USD research awards for calendar year 2023. Research Award Applications are available here.

Applications for the research awards will be independently evaluated by a 3-member board committee based on the following:

Research topic;
Research summary;
Contribution of the research to the literature and/or practice;
Alignment with the vision and goals of IACFP; and
Preferences noted in the application process (i.e., research that may enhance practitioner practices and outcomes through innovative programs—especially in community corrections—as well as the well-being of practitioners working in applied forensic and correctional psychology settings).


Applications are due 1 June 2023, and award decisions will be announced after the IACFP board meeting on 15 August 2023.


Member Access to SAGE Journals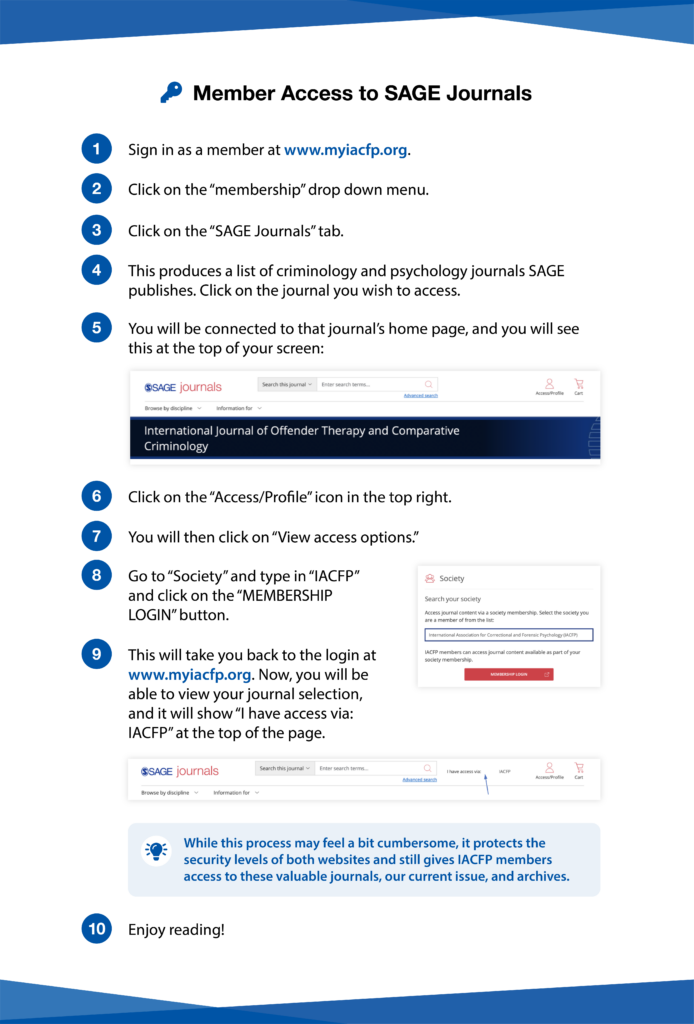 Impact and Importance of Families

The most recent issue of Prison Service Journal, Vol 264, January 2023, focuses on the impact and importance of families. Articles include those that examine prison complaints, the experience of imprisoned fathers in the Netherlands, and correctional staff's perspectives of the Employee and Family Assistance Programme in Saskatchewan, Canada.


A New View of Jails: Exploring Complexity Science in Jails-Based Research

The United States National Institute of Justice (NIJ) has published A New View of Jails: Exploring Complexity Science in Jails-Based Research. The article is a follow up to the virtual meeting convened by NIJ in March 2020 with researchers and practitioners to explore the possibilities that arise from rethinking our view of jails. Participants discussed complementing traditional mental models by viewing jails as complex adaptive systems through the lens of complexity science, in which perception, cognition, and action continually interact and affect processes and outcomes.

This article briefly introduces these concepts of complexity science relevant to jails and suggests areas for further research to help address persistent challenges in the field. The report highlights areas for rethinking information flow, how we perceive safety, and community prevention and reintegration. These areas of discussion may create unique opportunities for justice-involved individuals with mental health challenges.
Respectful Communication and Mutual Understanding for Black Male Prisoners and Staff

"The experiences of adult black male prisoners and black prison staff," a thematic review conducted by Her Majesty's Inspectorate, explored the experiences of prisoners who identify as black men and what can be done to create opportunities for respectful communication and mutual understanding between black prisoners and staff.

The findings of the thematic review identified many areas for improvement that were embedded within the organization. The response from HMPPS was receptive and demonstrated commitment to both incremental and dramatic change. The report and the response can be found here. The response focused on both justice-involved individuals and the staff who work with them. HMPPS stated:

"It is HMPPS' clear intent for HMPPS to adopt a zero-tolerance approach to racism and discrimination and create an organisation that actively identifies and eradicates the ways racism is built into policies, practices, and overall ways of working.
This includes leveraging the strengths and leadership of Black people and other underrepresented groups, as well as drawing on their lived experiences to effect positive change."
Juvenile Justice System Transformation

Youth Correctional Leaders for Justice, which has been housed at the Columbia University Justice Lab has been developing a guidebook for leaders and practitioners in juvenile justice who want to transform their juvenile justice systems.

The result is "Taking on Transformation." The website is www.takingontransformation.org. It is an incredible guidebook that is interactive, substantive, and addresses the key issues of:
This is a website that you will want to bookmark for your action planning and reference library.
Europris Newsletter – March Issue

The March Issue of the Europris newsletter can be accessed here. Two items that may be of greatest interest to readers are the upcoming International Criminal Justice Summer Course announcement and the feature article. The summer course will be dedicated to mental health issues in criminal justice. The feature article is about a new approach to open prisons in Spain. It is both informative and hopeful that transformation is possible!
NCCHC Spring Conference on Correctional Health Care, April 29-May 2, 2023 &

For additional information on this conference, click here.
NCCHC Correctional Mental Health Care Conference, July 15-16, 2023

For additional information on this conference, click here.
5th North American Correctional and Criminal Justice Psychology Conference (N5), June 22-23, 2023

To register for N5, go to this link. IACFP is a sponsor for this event and will also be providing two student travel scholarships. Dr. Jeffrey Metzner and Jim DeGroot, IACFP board members, will be presenting a workshop with Dr. Graham Glancy entitled, "Issues & Challenges in the Use of Restrictive Housing Units with the Mentally Ill."