We've compiled top highlights from recent news, research, and resources across the world for our latest IACFP International News summary. Our topics for March and April, 2022 include research and practice highlights on Ukraine, penal reform, good governance, and COVID-19, as well as upcoming conferences.
SAGE Publications

IACFP has had a long-standing agreement with SAGE publishing which supports both the publication and dissemination of Criminal Justice and Behavior. It also provides many other benefits to IACFP members in terms of access to published research in 56 other journals in criminal justice and psychology.

SAGE is also an organization that "walks its talk" in terms of their belief that "social and behavioral science has the power to improve society." SAGE focuses on "publishing impactful research, enabling robust research methodology, and producing high quality educational resources that support instructors to prepare the citizens, policymakers, educators and researchers of the future." Therefore, it is not surprising that they have now created a microsite regarding Russia's invasion of Ukraine and the consequences to that war. As an organization they are:

Opening up their platforms to users in Ukraine so that there are no restrictions on the content they can access for teaching or research.
Ensuring that SAGE content is also freely available to Ukraine via Research4Life.
Making a corporate donation to UNICEF's work in Ukraine.
Matching, without limit, SAGE staff donations to charities working in the areas of conflict relief and refugee support.
Creating a free-to-read collection of research that highlights research related to the Russia-Ukraine war. The collection is available at this link.


This site has many articles that can help individuals better understand the conflict, the consequences, and what might come next. You can also easily access journals that are "top picks" and a "Special Virtual Issue on Ukraine." The latter is a themed collection of research articles.


Penal Reform International

Penal Reform International has published, "Crisis-ready non-custodial sanctions and measures—Lessons from the COVID-19 pandemic." It is available here. This document focuses on the lessons learned by probation agencies, as well as other criminal justice stakeholders that are more community-based. It also offers a 10-point plan for future preparedness that supports adaptability, effectiveness, and non-discrimination in times of crisis.

The lessons learned focus on the following areas:

Preparedness and planning;
Transparent and prompt communication; Technology;
Collaborative and multi-sectoral approaches;
Existing gaps and issues;
Complex support needs on people serving community-based sentences or other non-custodial measures; and
Flexibility and resilience.


This is an excellent document for practitioners in all criminal justice settings. PRI has also recently published "Good governance for prisons-Putting good governance into action during and beyond the COVID019 pandemic." In announcing this publication, they write:

"Good governance is the cornerstone of effective prison management and a well-functioning justice system, and this sector should be subject to the same standards of accountability and effectiveness as other public sector agencies. Good governance can be measured by eight factors: 1.) Participation; 2.) Rule of law; 3.) Transparency; 4.) Responsiveness; 5.) Consensus oriented; 6.) Equity and inclusiveness; 7.) Effectiveness and efficiency; 8.) Accountability.

This new guide by Penal Reform International is organized according to these key principles as they relate to governance within prison systems or within justice systems more broadly when it impacts prisons. It provides examples of how the eight principles of good governance have been specifically and successfully applied in response to the COVID-19 pandemic and how they might continue to be applied more effectively towards longer-term and sustainable reform. It is based on research into the COVID-19 justice response around the world, including a particular focus on the responses in Kenya and Kazakhstan."


Thailand Institute of Justice

The Thailand Institute of Justice published "A Global Study on the Impact of COVID-19" in March 2022. It highlights challenges, promising practices, lessons learned, and recommendations on how prisons have dealt with COVID-19, using examples from around the world. This report is unique in that it provides the perspectives of both justice-involved individuals and staff. The recommendations are broken into two categories: preparedness for future crises and preventing and controlling COVID-19 in prisons.
IAFMHS Conference, June 14-16, 2022

This in-person conference will be held in Berlin, Germany on June 14-16. Proposals for conference presentations must be submitted by 14 February 2022.

For more information, visit www.iafmhs.org or click here.
NCCHC Correctional Mental Health Care Conference, July 31-August 1, 2022

Mental health issues and substance use disorders are up throughout the country, along with staffing shortages and compassion fatigue. Join NCCHC for a comprehensive look at correctional mental health care at their first in-person conference in three years.

For more information, visit https://www.ncchc.org or click here.
American Correctional Association, August 4-7, 2022

This year's 152nd Congression of Correction will take place in New Orleans, LA. Attendees can check regularly for updates on the event, plus housing and registration information on the organization's website.

For more information go to American Correctional Association.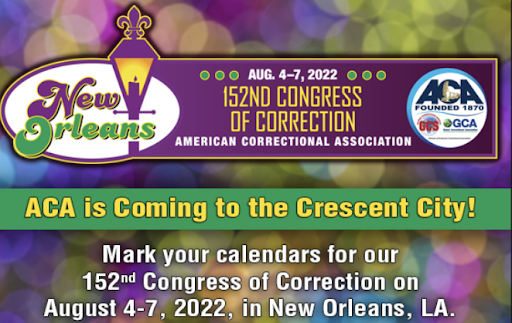 World Congress on Probation and Parole, September 28-October 1, 2022

The World Congress on Probation and Parole invites experts, researchers, and practitioners from around the world to promote and develop probation and community corrections through the sharing of practical and academic knowledge.

The theme of the event will be: "No One Left Behind: Building Community Capacity"


International Corrections & Prisons Association, October 23-28, 2022

Join ICPA in Orlando, FL, for this year's annual conference. The theme for 2022 is "Excelling beyond the 'Old Normal': Corrections After the Global Pandemic." Call for papers is open through April 2022. Visit the ICPA website for more information.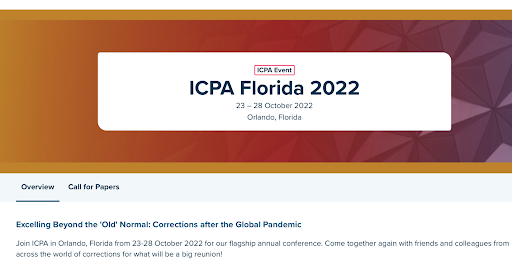 For more information, go to www.icpa.org
February - April 2022: Call for Papers open
February 2022: Sponsorship/Exhibition Applications open
March - August 2022: Early-Bird Registrations
Venue and Accommodation
Gaylord Palms Resort & Convention Center
6000 West Osceola Parkway
Kissimmee, Florida 34746 USA