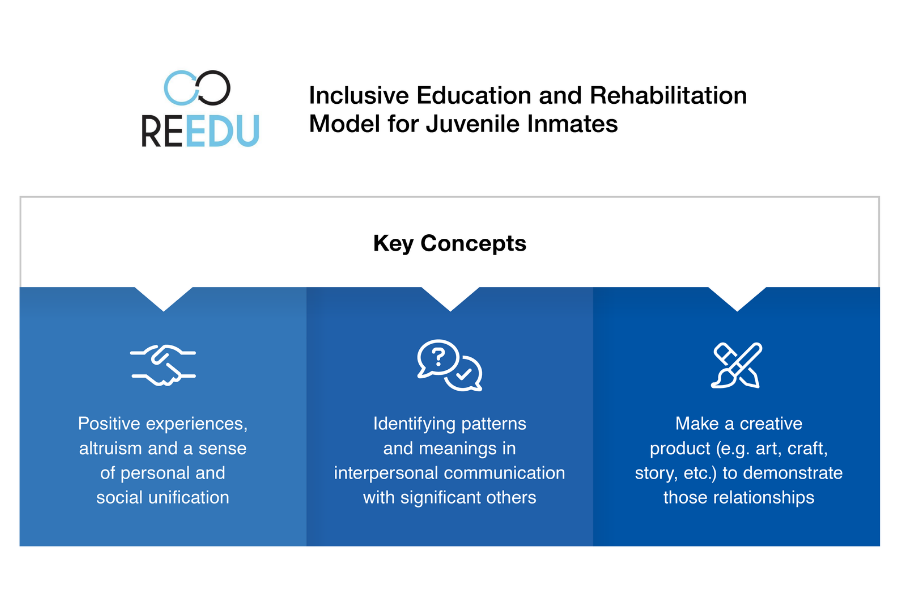 In 2017, IACFP began exploring how it could more effectively work as a partner with other organizations throughout the world. One of the strategies adopted at that time was to be the founder of an NGO organization in Europe. The result was the establishment of IACFP Europe, which was awarded a Royal Decree as a Belgium public interest foundation in 2019. Over the subsequent 18 months, IACFP Europe pursued partnership opportunities that were aligned with its mission to bridge research to practice and support practitioners who serve justice-involved juveniles and adults in secure facilities and the community. It focuses on research, professional development, and training.
During 2020, IACFP Europe was invited to be a partner in an Erasmus+ project application aimed at rehabilitation and education of young offenders/juveniles. The project coordinator was Center za izobraževanje in kulturo Trebnje / Centre for Education and Culture Trebnje  (CIK). CIK Trebnje is a public organization, established by four municipalities (Trebnje, Šentrupert, Mokronog-Trebelno and Mirna) to promote and develop adult education programs, including those for justice-involved individuals. The project was awarded funding and officially began in January 2021.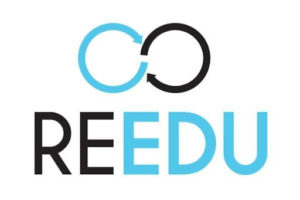 The aim of this project is to enhance acquisition of social competencies and promote the fundamental rights and values of juvenile offenders through innovative rehabilitation measures with the support of their families and significant others. It is summarized as an INCLUSIVE EDUCATION AND REHABILITATION MODEL FOR JUVENILE INMATES. The Model will be developed through several work products during the project. The Model will be designed to develop and enhance the social and civic skills of justice-involved adolescents and young adults and to develop their values and attitudes towards life. It will be piloted in four countries and supported by resources that will allow replication of it.
CIK Trebnje serves as the project coordinator for the REEDU project. In addition to IACFP Europe, the other project partners are:
The additional partners who will be involved in promoting the project and disseminating materials related to the project are International Corrections and Prison Association Office in Europe (ICPA), Asociatia Centrul de Cercetare si Formare a Universitatii de Nord Baia Mare, Asociatia Start Pentru Performanta, and Vis Juventum Association.
Project Goals and Objectives
The premise of this project is that, both during the time in a secure setting and afterwards, the young person is part of a community—members of which are employees and volunteers working within the secure setting, friends, and significant others, including one's family. The innovative approach of this project is that it tackles the education and rehabilitation of the youthful offender in an inclusive manner: by working with them and their significant others in a cohesive and comprehensive manner. In this way the prison or other secure setting becomes a hub for informal and non-formal education for re-entry into society. This hub serves not only the justice-involved individuals, but also their closest community: his or her family and significant others. 
The REEDU project objectives as stated in its proposal are:
To improve the social skills of young inmates, establish their value system and attitudes towards mainstream society, and life in general;

To support mentors with new methodologies for education and rehabilitation of young inmates;

To involve inmates' significant others and mentors in education and rehabilitation process, and thus reach greater impact on inmate;

To combat stereotypes against young inmates;

To increase inmates' reintegration into society by improving their social skills, establishing their value system and attitudes towards society and life; and

To improve national prison education and rehabilitation systems.
Key Concepts of the REEDU Project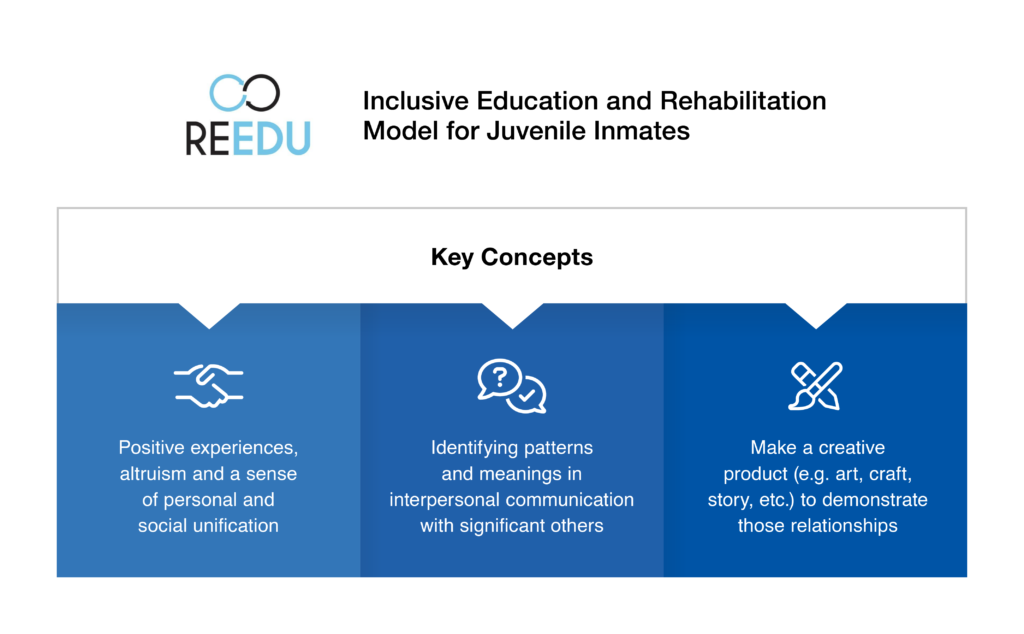 Positive criminology, as the name implies, focuses on the positive (rather than the negative) perspectives, experiences, images ideas and concepts. It differentiates between who you are and what you did, with an emphasis on what can be.





Within this approach, the inmate is exposed to positive experiences, altruism and a sense of personal and social unification.

Work is done both with the individual, in this case the inmate, and their significant others (i.e., those closest to them). It is a movement from working with an individual to working with a group, applying an interpersonal approach.





The emphasis is on the ecology of the inmate's system – how everything fits together, the meanings everyone gives to each other's actions, and the communication patterns that have evolved.

The idea of the project methodology is that through it, the inmate will work with the significant others and, with the support of the mentor (e.g., prison officer, psychologist, educator, or social worker) create a product that could be art, craft, writing, etc.





The facilitator/role model




is trained to use the project approach as an informal education method, working within a prison environment with justice-involved juveniles, their significant others, and correctional officers in order to attain the aims of the project.
This exciting project has already completed the first major work product: a document that bridges the gap between research and practice and provides an innovative theoretical approach for the project. This includes research regarding systems theory, positive criminology, resilience, rehabilitation, role models, and project-based learning. The research provides a foundation for the guidelines for project-based learning, which will then be utilized to train mentors and serve as a resource for the development of future projects. IACFP Europe was a partner in this effort. The document will be available online in English, Slovenian, Romanian and German editions.
The "Guidelines on Implementing the Project-Based Learning Approach" are currently going through a final review by the partners. It includes the following chapters:
Theory and Application                               

Skills and Development

Challenges and Barriers

Mentoring Activities

Projects

Involving Other Adults

Sample Projects
While the guidelines will serve as a resource and roadmap for the teams involved in the pilot training for trainers and project implementation, they will also serve as a resource for anyone seeking to adopt an evidence-informed, project-based learning approach in any correctional environment. When finalized, this document will also be available online in English, Slovenian, Romanian, and German languages.
Teams made up of correctional officers, educators, psychologists and other professional staff from Slovenia, Malta, Germany, and Romania will receive training on the guidelines and will also practice experiential learning for their peers in early summer. They will then be involved in a pilot implementation in each of their countries and will develop four projects that involve justice-involved individuals, correctional officers, and significant others.
During the final year of the project, the learning and evaluation of the projects, the project-based learning approach, and current statutes regarding prison rehabilitation and education will inform final recommendations for the Model. The recommendations for implementing a Model in national education and rehabilitation systems in other countries will be shared at a final conference and public presentation of the project in December 2023.

IACFP Europe and its founder, IACFP, is excited to be a partner in a project that can bridge research and practice resulting in improved outcomes for justice-involved individuals. It has already proven that when representatives from the research and practice communities from different countries and cultures collaborate, the transnational integration of policy and service development is not only possible but also can thrive and be a great resource for professionals leading and working in corrections' organizations.
* References available upon request.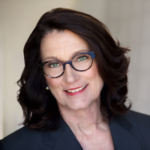 Cherie Townsend is the IACFP Executive Director. She also works as an executive coach and consultant. Ms. Townsend previously worked as a leader and practitioner in juvenile justice systems for nearly 40 years.