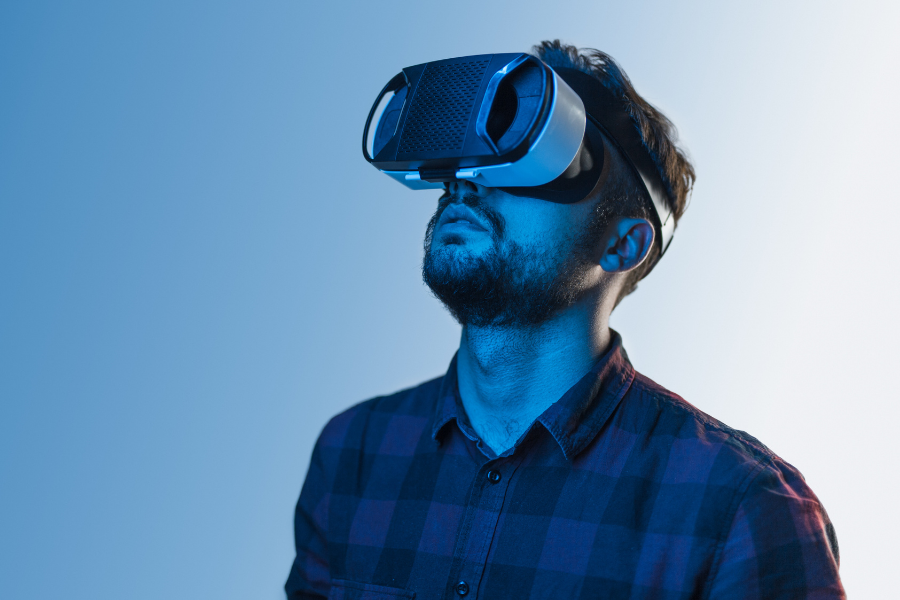 Although virtual reality (VR) technology has been successfully utilized for psychological treatment and learning for many years, its use in correctional facilities for the purpose of correctional rehabilitation has been slower to manifest. Here, we summarize research by Bobbie Ticknor exploring the benefits and challenges of using VR for correctional rehabilitation, published in Criminal Justice & Behavior in September 2019.
Technology in Correctional Facilities
Correctional facilities have long integrated technology into their daily practices for the purposes of supervision and assessment. More recently, additional efforts have been made to begin utilizing technology for correctional rehabilitation. This can include:
Data analytic software used to create and refine treatment plans for incarcerated individuals;
Video games that help inmates learn new coping or social skills and decrease the likelihood of risk-taking behaviors; and
Computer-simulated learning (CSL), which uses real-world scenarios to help users practice skills in lifelike settings.
Uses of VR in Correctional Rehabilitation
VR builds on the concept of video games and CSL to offer users the opportunity to practice new social, behavioral, or coping skills in a realistic setting; however, decision-making, environments, and interactive options can be far broader. In VR, the user is immersed in a 2D or 3D setting, and this sense of immersion creates a psychological state in which the user accepts – on a physical, social and emotional level – the simulated reality. 
The three main types of VR experiences currently available are non-immersive, semi-immersive, and fully immersive. For the purposes of this research, Ticknor focused on semi-immersive technology developed for correctional rehabilitation through the use of a head-mounted display. Ticknor explored the use of VR for three areas of psychological treatment: 
VR exposure therapy (VRET);
VR with cue-based exposure therapy (VR-CET); and
VR cognitive behavior therapy (VR-CBT).
VR Exposure Therapy (VRET) has traditionally been used for treating anxiety disorders and PTSD outside of correctional settings. In this form of treatment, patients are exposed to virtual environments, situations, or triggers for their fear/anxiety in a safe setting with the help of a therapist. This enables the patient to become more desensitized to the trigger and develop more effective coping skills they can then utilize in the real world.
"Using a virtual simulation during treatment does appear to increase the patients' motivation, ability to generalize what they have learned to the real world, and treatment outcomes."
Studies have shown VRET to be very effective for both anxiety and PTSD in the general population, which led Ticknor to posit that such treatments would be similarly effective for incarcerated individuals who struggle with anxiety disorders and PTSD. One such example: "the Oregon Department of Corrections has been using a meditation application called Provata VR to combat inmate and staff anxiety and depression."
VR-CET has been successfully utilized to treat alcohol and drug dependence in the general population. In this treatment, the patient is exposed to a VR simulation wherein the patient must navigate a high-risk situation that would likely trigger a craving. By managing these cravings in a safe and controlled environment, the patient learns to decrease their urges.
"Using virtual simulations has been shown to be effective in inducing cravings for alcohol, methamphetamine, nicotine, and cocaine, thereby demonstrating its usefulness as a therapeutic modality for the treatment of substance abuse disorders."
Because so many incarcerated juveniles, men and women struggle with substance use disorders, this is another area of treatment that could potentially be utilized in a correctional setting. More importantly, because "substance use is a known predictor of recidivism," it's even more vital to consider VR-CET as a component of correctional rehabilitation.
VR-CBT builds on traditional techniques of CBT (cognitive restructuring, modeling, role playing, and reinforcement) by allowing patients to practice skills in a safe, semi-immersive environment under the guidance of their therapist. VR-CBT has been shown to be effective in treating phobias and social anxiety.
In correctional settings, CBT has been shown to increase program commitment and completion, while decreasing misconduct and recidivism. Given the proven success of VR-CBT in the general population, it is highly likely VR-CBT would be equally effective for correctional rehabilitation.
To help address the lack of evidence-based research on VR for correctional rehabilitation, Ticknor conducted a pilot study in 2013 to determine if VR-CBT would be more effective than traditional CBT for juvenile offenders. The results were as follows:
| Motivation | Participants reported VR-CBT was "more engaging" than traditional CBT treatment. They also felt they were able to be more open and engaged in discussions using VR. |
| --- | --- |
| Functionality | The facilitator for the group reported being able to better manage problem behaviors in the VR setting, and the use of VR enabled participants to join who were not physically in the same settings. |
| Feedback | The facilitator was able to provide more immediate and individualized feedback in the VR setting, and the use of recorded video enabled participants to review lessons, which more effectively reinforced treatment. |
| Implementation | Potential barriers identified for implementation included costs for both software and hardware, availability of space, and training time required for the facilitator and participants. |
| Cybersickness | Some users reported physiological symptoms, such as eye strain, motion sickness/vertigo, and headaches. |
Although psychologists have been using VR in traditional treatment settings for years, its utilization in correctional settings has been slower to develop. For patients in the general population, VR has been shown to enhance the effectiveness of ET, CET, and CBT for anxiety, PTSD, and substance use disorders. Because individuals in correctional facilities often struggle with similar issues, the use of VRET, VR-CET, and VR-CBT warrants further exploration and attention.
Potential barriers most likely faced by correctional facilities include cost, training requirements, and space. However, the potential benefits include greater motivation and increased commitment from incarcerated individuals, better methods of behavior management for facilitators, a higher likelihood of program completion, and a reduced rate of recidivism.
"VR has the potential to address many of these issues and to revolutionize correctional rehabilitation as we know it."