After decades of not just increasing populations in prisons and jails in the United States but unconscionable mass incarceration, several different efforts began to reduce these numbers.  Some efforts looked at policy; some at decision-making, and some looked at the bottom line, (i.e., the costs to continue mass incarceration). Nearly ten years ago the concept of "Smart Decarceration" was introduced. This article provides a summary of new research presented in Criminal Justice and Behavior Special Issue, Volume 48, Number 1, January 2021. 
What is Smart Decarceration?
Decarceration is a descriptive term that is sometimes used to generically describe population reduction in secure facilities. In the last ten months, as leaders sought to mitigate the impact of the pandemic and the spread of COVID-19 in congregate living facilities, the focus has been on reducing the overall rate of incarceration worldwide. The latter has been the focus of several reports that have been highlighted in the last two IACFP e-Newsletters. It, too, has often been described as decarceration. 
Smart Decarceration is so much more. As noted by the guest editors of this special issue of Criminal Justice and Behavior,
"Smart Decarceration goes further than basic reductions in incarceration to identify key outcomes of reduced disparities in the criminal justice system, most notably race/ethnicity, behavioral health, and LGBTQ-related disparities. In addition, Smart Decarceration focuses on promoting overall safety and well-being, particularly for communities that have been most impacted by mass incarceration."
This CJB issue is an important step forward in documenting the knowledge base that is being built based on an interdisciplinary research agenda. Considering the broad goals of Smart Decarceration, there are articles emphasizing each goal.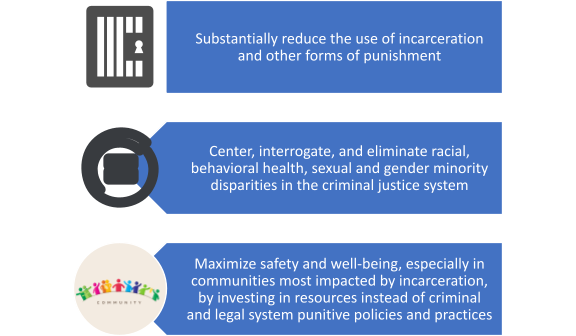 The articles also investigate multiple levels of intervention (i.e., individual-level, community-level, policy-level) across levels of the criminal justice system, and engage communities and individuals most affected by incarceration, including those who have been involved with the justice system themselves.
As demonstrated by the articles in this special issue of the journal, researchers who are focusing on Smart Decarceration are going beyond what might be considered traditional research methodologies and outcome measures for criminal justice systems. They are taking on the challenges presented by the size and complexity of the criminal justice system. They are also including innovative research methodologies and utilizing new forms of data.
Authors from each of the articles included in this special issue will participate in a two-part conversation on micro and macro strategies for Smart Decarceration, who is impacted, and the unintended consequences. The events will take place on February 24 and March 3, 2021. The event is free and hosted by The Smart Decarceration Project. More information and registration can be found here. SAGE Publications will generously be offering open access to the special issue from February 22-March 8, 2021.
For readers of the IACFP e-Newsletter, we are providing a summary of one of the articles in the special issue (i.e., "The Criminal/Legal Experiences of Individuals with Mental Illness along the Sequential Intercept Model:  An Eight-Site Study"). The authors are Erin B. Comartin, Victoria Nelson, Scott Smith and Sheryl Kubiak. The study used a systems approach to investigate the overrepresentation of individuals with Serious Mental Illness (SMI) in the criminal/legal system.  They followed a cohort of individuals through each intercept in eight counties in one Midwest state in the United States. They compared individuals with SMI to those without SMI.
As noted in the article, "Research shows that individuals with severe mental illness (SMI) are overrepresented in the criminal/legal system. Estimates vary but suggest that between 11% and 44% of individuals incarcerated may have an SMI (Bronson & Berzofsky, 2017; Eno Louden & Skeem, 2011; Steadman et al., 2009) at least doubling that of the general population (6%; Kessler et al., 2003)." In introductory points, the authors go on to state that the system's inability to address the behavioral health needs of these individuals has led to an emphasis on their diversion to community-based treatment. One approach to accomplish that is the Sequential Intercept Model (SIM). At each point of interception, there is an opportunity for decision makers to change practices or processes in their system to not only reduce the proportion of individuals with SMI along the criminal/legal continuum, but also to more effectively intervene.
Sequential Intercept Model Six Points of Intercept
The researchers stated that while the SIM focuses on the diversion of individuals with SMI from the criminal/legal system into more appropriate, and most often community-based, treatment, it provides a framework that is consistent with the goals of Smart Decarceration. Specifically, they state, "…which is congruent with the ultimate goals for the SIM: reduce incarceration rates and disparities, and ensure public safety by addressing unmet behavioral health needs through treatment."
Some of the results that are highlighted in this article are:
Women in jail are more likely to have mental illness.

Individuals with SMI were significantly more likely to be located in a metropolitan county jail.

All behavioral health indicators differed significantly between individuals with SMI and non-SMI.

Individuals with SMI did not significantly differ in the proportions of substance use from non-SMI individuals.

Individuals with SMI were more likely to self-report a jail stay in the year prior and were more likely to have a felony charge of their target jail stay.

Non-SMI individuals were more likely to have a technical violation for their target jail stay.

Individuals with SMI were more likely to be referred to mental health services.

Non-SMI individuals were more likely to enter a specialty court program.

Possible explanation #1: Lack of social supports and low SES increases likelihood of being assigned a public defender and having the case pled out.

Possible explanation #2: Specialty courts do not have capacity to serve everyone and yet may be underutilized.

Individuals with SMI were more likely to be sentenced to jail or prison.

Individuals with SMI are a lower proportion of people who recidivate for a technical violation.
The study noted three indicators of treatment engagement after release from jail differed by SMI status. Not surprisingly, individuals with SMI were more likely to engage in mental health treatment. They were also more likely to receive mental health continuity of care. Interestingly, although they did not differ in the proportion who screened positive for substance use, they were more likely to engage in substance abuse treatment. 
This is the first study to follow a cohort of individuals through each intercept point. It did so for three or more years. It noted that the findings were similar to a study in New York, in that it found individuals with SMI stay in jail almost twice as many days as non-SMI individuals!  "Studies suggest that jails are harmful to individuals with SMI because of the disruption in treatment continuity, exacerbation of their illness in the jail's chaotic environment, isolation in solitary cells, and higher rates of assault (Clark, 2004; National GAINS Center, 2007)." While they offer possible explanations for this, it is troubling that we are still seeing this level of continued incarceration for individuals with SMI. It is even more troubling because the researchers also found only half received services while in jail. More encouraging is that being a client in a local CMH system increased the odds of prompt treatment.
Another interesting finding in the study was that some individuals who had not been identified with SMI at jail booking did receive mental health treatment after their release. While this may be the result of not being properly identified, it may also be that—as a result of training provided to jail staff—that they are better able to recognize mental health needs and refer individuals for treatment.
Overall, this study demonstrated how important it is to look at an individual's experience along a complete system—both in terms of the criminal/legal system, as well as a system of care. While there were limitations in this study, particularly in terms of data that was available (as well as data that was not collected but vital to research), it begins to give a picture of what might be possible. Just seeing how better tracking and monitoring might help us to more effectively engage with individuals with SMI before they escalate to another point in the system is hopeful. It is also hopeful that there are jurisdictions who are looking at the data and exploring how they might work together better as a system on behalf of individuals with SMI.

The conclusion of the researchers is a call to collaborative action:
"The findings from this exploratory study show how individuals with and without an SMI proceed along each intercept of the SIM, which supports continued interventions that increase treatment engagement among justice-involved individuals and identifies barriers to participation in diversion activities. Future Smart Decarceration efforts will benefit from evidence-based interventions within each intercept, as well as a focus on the transitions this population makes across intercepts. These efforts depend on the collaborative efforts of criminal./legal and behavioral health actors in the implementation and monitoring of community-wide efforts."
* References available upon request.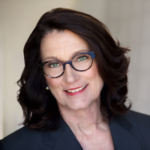 About the Author
Cherie Townsend is the IACFP executive director. She also works as an executive coach and consultant. Ms. Townsend previously worked as a leader and practitioner in juvenile justice systems for nearly 40 years.